Our Reputation And Dedication
We have been in the home care business for over 25 years. In that time, we have earned a reputation for providing competent, trustworthy and reliable home care management services. Stevie Alexander, our care manager and owner, is committed to ensuring that every one of her clients receives exceptional care, provided with respect and compassion. She is personally involved with every individual in her care and is available to them, their families and her caregivers 24 hours a day.
How Stevie Works: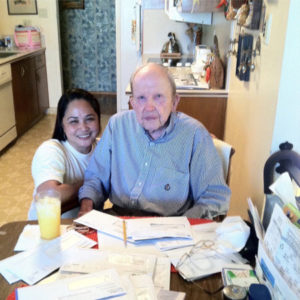 Receives referrals from local hospitals, skilled nursing facilities, physicians, and social services agencies – often, referrals come through word of mouth
Interviews all prospective clients and their families
Hand selects the caregivers she feels are the best fit for her clients' needs
Personally introduces each caregiver to the client
Monitors and manages all aspects of caregiving
Provides 24-hour personal availability to clients, their families, and caregivers
Works closely with the client, family, caregivers, and health care professionals to provide continuity of care
Visits clients weekly – increases visits when additional support is needed (i.e.,if client's health is declining)
Attends clients' physician appointments
Meets the client and caregiver in the ER if a client has to be taken to the hospital
Our Caregivers Are Professionals
All are experienced CNAs (Certified Nurse Assistants) – some are also CHHAs (Certified Home Health Aides)
All are trained and certified by the State of California
Are fingerprinted and screened, bonded and insured
Operate within the Scope of Practice determined by the CA Board of Nursing
Follow detailed guidelines regarding their duties and expected results
Inform and update Stevie Alexander regarding clients' heath and needs on an ongoing basis
Follow the individualized care plan for client
Maintain journal, medications schedule, ADLs (Activities of Daily Living), and flow sheet for each client
We invite you to read our Letters of Gratitude.
If you are an experienced Certified Nurse Assistant (CNA) and are interested in joining our network, I would love to hear from you. Contact: (415) 382-9203
To learn more about our home care management services, call (415) 382-9203 or Contact Us